You do not expect to find nightclubs or discos in Venice where you spend the night. The lagoon city is known for its calm and quiet and its conformation, with the houses very close to each other, it is such as to make it incompatible with the deafe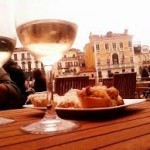 ning noise night clubs.
In fact, Venice is a city of bars and taverns which are filled of people during happy hour, great place to enjoy Bellini or Spritz, the typical Venetian drink.
The areas are the most lively Campo Santa Margherita in Dorsoduro, much frequented by university students, Fondamenta degli Ormesini e della Misericordia in Cannaregio, and the area dell'Erbaria in Rialto, beautiful open space overlooking the Grand Canal where in recent years have arisen numerous local where once stood the ancient stores of the market.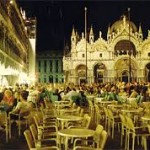 If you want to enjoy the atmosphere of ancient Venice, you should definitely go to Piazza San Marco and sit in the historical cafè of Venice, where, accompanied by sweet music of the orchestra, you can enjoy an evening in the stylish living room of Europe as they used to do the famous people who over the centuries have attended these rooms. At the tables Caffè Florian, one of the oldest in Italy, they sat Silvio Pellico, Daniele Manin, Carlo Goldoni, Lord Byron, Foscolo, Goethe, Marcel Proust, Gabriele D'Annunzio, Rousseau, Stravinsky, Modigliani. At Caffè Quadri instead they stopped people such as Stendhal, Balzac and Richard Wagner who left their greeting in the Guestbook of the famous coffee. Another historical place near the square is Harry's Bar, which Heingway was one of the most frequent visitors.
For lovers of Theatre, Venice offers a full calendar of events in the three theaters of the city: the historic La Fenice theater, the theater Goldoni and the M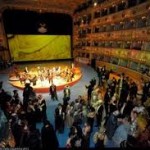 alibran Theatre.
Even the music has its own space in the city: many are the baroque music concerts held in churches or main floors of the buildings where it is possible listen to the virtuosisimi of Vivaldi, Scarlatti, Albinoni, Marcello. The jazz fans will adore definitely the Venice Jazz Club a small restaurant near Campo Santa Margherita, where you can listen to some Jazz.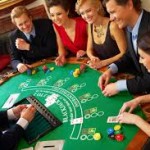 For those who want groped your luck, the Venice Casinò is the place for you: in the splendid rooms of Palazzo Vendramin Calergi, the last home of the famous composer Richard Wagner, you can try your luck with traditional card games, roulette or slot machines.
But the diehards of the night should not be discouraged by the lack of nightlife in Venice because the mainland in Mestre, Venice Lido and Cavallino-Treporti, Jesolo they will find a wide choice of places, in the last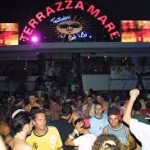 two cases, especially in the summer. Discos and night clubs with dj-set, some with terrace overlooking the sea or on the beach, where you can spend an unforgettable night.